Historic
Savannah Cruises
Enjoy the scenic route on our fun-filled Historic Savannah Cruises in Hilton Head, SC. Passing wildlife, landmarks and dolphins on route, this is the perfect sightseeing trip to Savannah on a private boat of up to 6 people!
Advance Booking Strongly Advised!
---
5 Hours Historic Savannah Cruise
Enjoy free time in Savannah
Sightseeing on the Intracoastal Waterway
Regular sightings of wildlife
Suitable for all ages!
Small, private tour of up to 6 people!
Take a Trip Through Time
Our Historic Savannah Cruises are a tourist favorite! With this boat trip, you'll enjoy a private tour to Georgia's oldest city – Savannah. Setting off from Hilton Head Island, sit back and relax as we glide past hotspots and wildlife that make for an unforgettable experience.
Tick off your sightseeing list as we cruise past Harbor Town, Daufuskie Island, Old Fort Jackson and River Street. Passing across the Calibogue Sound, you'll see a range of harbors, local life and wildlife that never disappoint.
After the scenic Intracoastal route, we'll head into Savannah's historic harbor. Here you'll get the chance to disembark onto the historic ballast stones, walk along the riverfront and take in the history and views that are so widely loved.
Before our return journey, why not grab a bite to eat before touring the buildings and shops of River Street and the historic open air market, churches, monuments and fountains.
Then, we'll head back to your drop-off point. Depending on the season, we may witness a stunning sunset over the horizon alongside glittering mansions, ports and gated communities.
Historic Savannah Cruises, Suitable for All Ages
Our
Historic Savannah Cruises
are suitable for all ages! Whether you plan on enjoying a boat trip with your kids or grandparents, we always work to ensure you leave the boat feeling better than you did when you arrived.
Small Private Boat Tour!
Why us? Unlike many other
Historic Savannah Cruises
, we provide private tours to groups of up to 6. This makes us a favorite for families and small groups looking to avoid the chaos of the bigger tourist cruises. We'll keep you entertained as Captain Brody and Captain Dick provide a passionate guided commentary made just for you!
What Will You See on Our Historic Savannah Boat Tours?
Our Historic Savannah Cruises will pass through the following and more:
River Street
Disembarking in
Savannah's Riverwalk
is a truly unique experience. This pleasant harbor has more than 75 boutiques, galleries, studios and restaurants located in the old cotton warehouse. Once you've set foot on the famous ballast stones, you can take a stroll along the riverfront or head into the historic heart of River Street. With time on your hands, you'll get the chance to feel the history and grab a bite to eat before our return.
Port of Savannah
As we near our destination, we'll head into the Port of Savannah – the nation's largest port in volume. With dozens of piers, docks and wharves, you'll see both Savannah's Historic Riverfront and glimpses of the big container ships that arrive here every day.
The Calibogue Sound
The Calibogue Sound separates Hilton Head Island from the mainland. On our Historic Savannah Cruises, we'll cross this deep, curved meeting of rivers. It's home to a range of natural beauty, from salt marshes and wildlife parks to sand bars, dolphins and sea birds.
Daufuskie Island
Our Historic Savannah Cruises pass by the island described as a Low Country paradise – Daufuskie Island. With white-sand beaches, ancient oaks and historical landmarks, this island is a local favorite that combines the new with the old.
Wildlife on Historic Savannah Cruises
One of the best parts of our Historic Savannah Cruise is the chance to see a variety of local wildlife! Our guests regularly enjoy marine wildlife sightings, including Osprey, Herons, Egrets, Pelicans, Cormorants, Oystercatchers, Bald Eagles, jumping stingrays and maybe Sea Turtles!
Will We See Dolphins?
Yes, we often see dolphins! We regularly see Bottlenose Dolphins swim right up to the boat as we head through Low Country Waters, close to the Atlantic Ocean. These friendly mammals are a truly stunning sight to behold and the highlight of any Hilton Head boat tour.
Best Things to See in Savannah
Take a Trip Through Time
Our historic Savannah cruises will stop at
River Street
, giving you the chance to enjoy a truly historical experience. This street is lined with history, from the African-American and World War II Monuments to the Olympic Cauldron and old cotton warehouses. Every step of the riverfront is lined with stories.
Shopping
River street is
the
place to buy a Savannah souvenir. There's a range of classic stores alongside the old-fashioned open-air market. Fresh air, a river breeze and shops for everyone!
Grab a Bite or Drink
Our guests love to enjoy a tasty meal or ice-cold beer once we arrive in Savannah. Enjoy
legendary Shrimp
, fresh beignets or stunning views from River Street's rooftop bars.
Soak Up The View
We always encourage our historic Savannah cruise guests to stroll along the riverfront. Why? Because it's the ultimate viewing point of the historic port! You'll see giant container ships, sea birds and loads more.
Savannah's River Street Facts:
River Street is situated along the Savannah River, where the colony of Georgia was founded in 1733.
In the 1700s, it was the main port for goods and by the 1800s the world's leading exporter of cotton.
River Street's famous cobblestones are from around the world, including Madeira Island, Spain, Canada, France and the British Isles. Originally used as ship ballast stones, they became affordable building material.
River Street is considered one of the most haunted places in Savannah. With a dark history of slavery and burial grounds, many people claim the souls live on.
Remnants of Savannah's dark past can still be discovered on River Street, with many structures that held enslaved people still standing today.
Savannah hosted the Olympic yachting events for the Atlanta games in 1996. The famous cauldron is still there today and was once lit by the original flame from Olympia, Greece!
In 1977, $7 million was spent renovating the old warehouses to make the riverfront we can today enjoy.
Historic Savannah Cruises From Hilton Head, South Carolina
If you're interested in booking a guided historic Savannah boat tour leaving from Hilton Head, SC, contact us today. Suitable for all ages, booking in advance is strongly recommended to ensure we can accommodate your group. If you're looking for an exciting adventure other than our historic Savannah cruises, check out some of our other packages:
Hilton Head Dolphin Tours
,
Hilton Head Sunset Cruises
,
Hilton Head Crabbing
,
Hilton Head Disappearing Island Tours
,
Hilton Head Fireworks Cruises
or if you're looking to relax and let your hair down, we have custom tailored a
Hilton Head Booze Cruises
just for you!
Historic
Savannah Cruises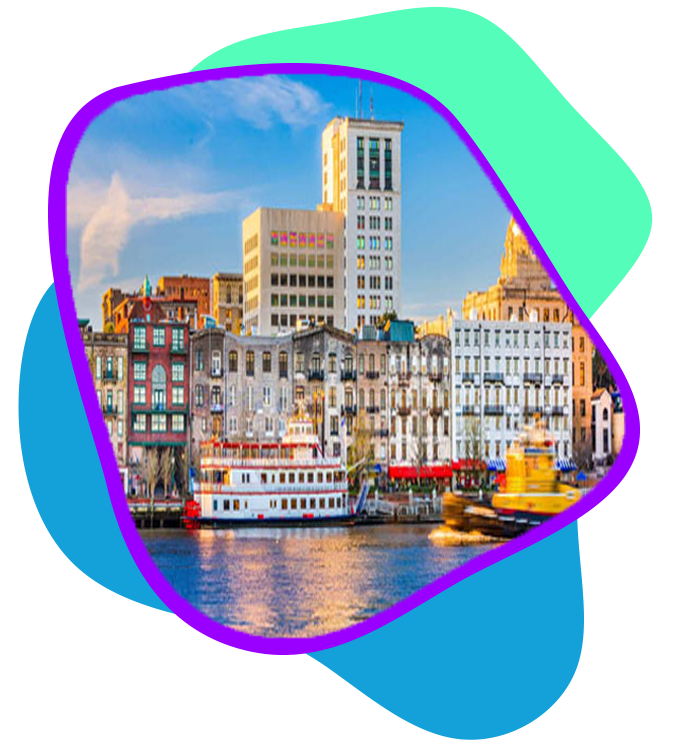 G

O

O

G

L

E

REVIEWS from our Happy Guests

chloe zmolek
21:35 23 May 22
Today I went out on the water with captain Brody with Hilton head dolphin tours, I cannot explain to you what an amazing time I had. We got out on the water perfectly on time, went to the sandbar, played music the entire time, then headed to Daufuskie to round out the day! Captain Brody found us dolphins multiple times and was a wealth of information about the water and what's in it. He even has misters for a hot day! I 100% will be doing this again and so should you!

Claire King
20:27 22 May 22
Captain Brody took us out on a wonderful sunset tour. We had 4 adults and 2 kids. We saw a ton of dolphins 🐬. My husband said the only thing better would have been if a dolphin hopped on board and gave him a kiss 😂. But seriously he was knowledgeable and we had a great time. He spent extra time with us until the sun had completely set. Would highly reccomend and plan to make it a tradition each year.

Had THE BEST time! Tours are personable and offer a great experience for any crowd. Boats, dolphins, and sunsets… you can't go wrong!

A great time! Definitely reach out if you're interested in dolphin tours, charters, booze cruises, etc. Staff is professional, knowledgeable, and engaging for all!

Sydney Egnor
15:16 05 May 22
Captain deck is extremely professional, knowledgeable, and courteous. He provided a wonderful experience for my charter. I would highly recommend booking with him. Make sure you bring cash with you for tipping, because you will want to!

stacey dampf
13:28 30 Apr 22
We did the booze cruise as a bachelorette party and I can't even explain how much you need to book this!!!!!(Yes all the !s are needed) We had SO MUCH FUN! Capt Brody was awesome and took us all over Hilton Head. We connected to the boats Bluetooth and played jams the whole trip, went to the sand bar and hung out, and even got to see multiple dolphins! MAJOR BONUS- this boat is also used for dolphin tours so Capt Brody knew where to take us to see dolphins and they come close to the boat! 👏🏼BOOK 👏🏼THE 👏🏼TRIP! 👏🏼

Tom O'Hare
00:41 29 Apr 22
Captain Brody knows his dolphins! Informative, entertaining, and saw many dolphins. Highly recommend and will book again with Brody.


Wonderful! Captain Brody was interesting and fun. We saw so many dolphins! Plus manta rays and sea turtles. My kids had a blast. We will be back!

Colleen Patton
01:13 12 Apr 22
Capt Brody and his crew are amazing!! Brody truly knows where the fish are biting and the best places to go! Even on a cold and windy day he and his experience were perfect!! I would go again tomorrow! And recommend him and his charter tomorrow!!