Hilton Head
Fireworks Cruises
Witness stunning fireworks glittering off the Low Country waters on our fireworks cruises in Hilton Head, SC. We'll take you to the perfect viewing point for an exciting evening of celebration.
Advance Booking Strongly Advised!
---
2 Hour Firework Cruise
Every Tuesday night from June 22nd – August 17th
Safe and suitable for all ages.
Perfect viewing points.
See Hilton Head's night lights
Avoid the traffic and chaos.
The Best Seat in The House
Think boat cruises are fun? Wait until you try them with fireworks! Join us every Tuesday night throughout the summer (from June 22nd to August 17th) as we enjoy Hilton Head fireworks in style!
Sheltercove's Harbourfest marks the arrival of weekly fireworks every year, jam-packed with events from live music and food vendors to kids events and the main attraction – fireworks!
Undoubtedly the best seat in the house is on our Hilton Head fireworks cruises. We'll sail out through Hilton Head Island's inland waterways to the best, unobstructed view of the firework display. We'll soak in the atmosphere before watching stunning fireworks glittering and reflecting off the water.
If you're looking to plan a celebratory evening, this is the perfect idea. Why not crack open a drink too, while you sit back and enjoy? There's truly no better way to witness Hilton head's fireworks than on a boat tour!
Hilton Head Fireworks Cruises, Suitable for All Ages
Our Hilton Head fireworks cruises allow all ages to experience the fun. We can cater to groups and families of up to six people.
Safety and comfort are our number one priority, so whether you're planning a party with your friends or a night out with your kids, we'll make it happen.
More Than Just a Hilton Head Firework Cruise
Our Hilton Head fireworks cruises are planned to take you directly to the best viewing location for the show. But you'll see so much more on route! Leaving around sunset, you'll witness breathtaking, vibrant colors filling the skyline before the main event.
Hilton Head Wildlife
As we cruise through Hilton Head's inland waterways, you'll also see a variety of local wildlife. We regularly see Osprey, Herons, Egrets, Pelicans, Cormorants, Oystercatchers, Bald Eagles and other sea birds.
Spot Dolphins!
You might even see a
bottlenose dolphin
! These friendly mammals are known for leaping through the air, wowing our guests. Bottlenose dolphins swim near the shores of Hilton Head Island in the summer. They often come right up to the boat to say hi! If you're lucky, they'll visit us while we wait for the fireworks show. Federal laws prevent any feed or touching, but don't forget to take a photo! Bottlenose dolphins are very social and live in groups of around 12. They communicate with noises like clicks, whistles and squeaks. As they're mammals, they can't breathe underwater, so they're always hanging around near the surface
Hilton Head's Glittering Harbours
Our Hilton Head firework cruises will also pass by harbors and mansions that offer wonderful glittering lights at night. Often overlooked, these lights are a great part of any late-night Hilton Head boat tour.
The Best Way to Watch Hilton Head Fireworks?
Hilton Head fireworks cruises are widely considered the best way to watch fireworks on Hilton Head Island. Without the chaos on land, you'll avoid crazy parking prices, chaotic traffic and poor views. Instead, it's just you and your group having fun!
4th of July Fireworks Cruises in Hilton Head
Our Hilton Head fireworks cruises on the 4th of July are the best place to celebrate! Every year, we take a lucky group out into the middle of the action. You'll get a private viewing of the best firework display for the year! The island is known for being pure traffic madness on July 4th, but we'll help you avoid it. Our limited spots for 4th of July fireworks cruises in Hilton Head go fast – so book in advance.
Birthday and Celebratory Parties
Fireworks are made for parties. Whether it's to celebrate a birthday, graduation or new job, we'll help make it a night to remember. With the opportunity to combine it with a Hilton Head booze cruise, you can celebrate in style!
Date Night Firework Cruises
Looking for an intimate date night unlike any other? Why not book a Hilton Head fireworks cruise for just the two of you. Out on the serenity of the water, you'll get the perfect viewing spot of the show made just for you.
Harbourfest Information
Weekly Shelter Cove Fireworks
HarbourFest
at Shelter Cove Harbour & Marina on Hilton Head Island, S.C., is a local and tourist favorite. Every week throughout the summer, you can celebrate and enjoy a party atmosphere with live music, entertainment, arts and crafts, food, drink and Tuesday night fireworks! It's almost like a 4th of July celebration every week! Perfect for kids, this is one not to miss. And of course, the best way to see the fireworks is on our Hilton Head fireworks cruises!
What Fireworks Might We See?
Cake Fireworks – These heavy-duty fireworks create aerial effects at a rapid pace. With hundreds of shots at once, we'll probably see these as part of the show's finale.
Kamuru – This rocket is the glitz and bang of any firework display as it explodes to leave sparkles shimmering to the ground. Yes please!
Spiders – We'll almost certainly see these huge bursting fireworks! They let out screams and pops as they go.
Crossette – Crackling, crisscrossing beauties. They'll erupt with whizzes and squeals.
Peony – Launched off a rocket, this is a classic. A round ball of falling stars with vibrant neon-like lights!
Fireworks Cruises in Hilton Head, South Carolina
If you're interested in a celebratory
boat tour in Hilton Head, SC
, that is truly unforgettable, contact us today to book a fireworks cruise. Suitable for all ages, booking in advance is strongly recommended to ensure we can accommodate your group. If you're looking for an exciting adventure other than our fireworks tours, check out some of our other packages:
Hilton Head Dolphin Cruises
,
Hilton Head Sunset Cruises
,
Historic Savannah Cruises
,
Hilton Head Crabbing
,
Hilton Head Disappearing Island Tours
, or if you're looking to relax and let your hair down, we have custom tailored a
Hilton Head Booze Cruises
just for you!
Hilton Head
Fireworks Cruises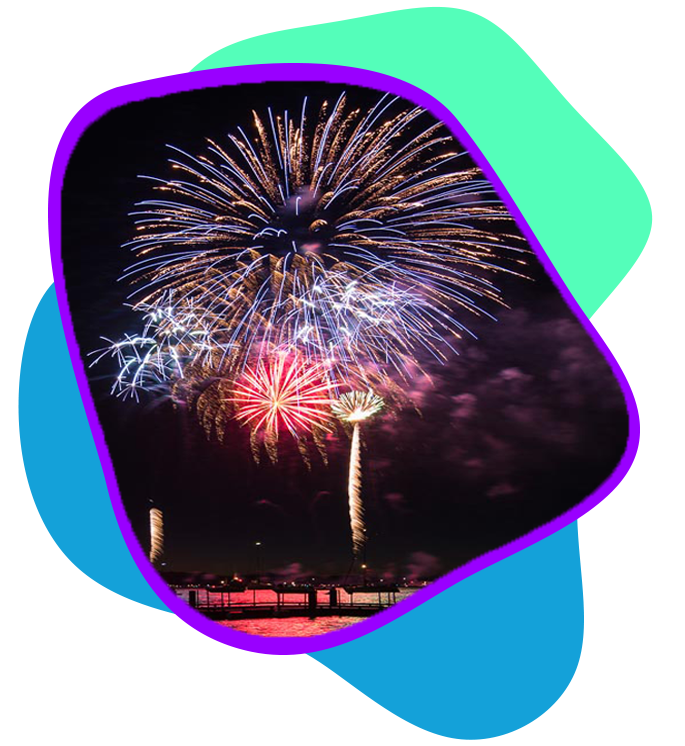 G

O

O

G

L

E

REVIEWS from our Happy Guests

The Big Daddy-O
17:25 25 Aug 23
Very friendly and scenic!

Kelly Killman
16:57 22 Aug 23
This was the BEST experience. Captain Brody was so great, he gave recommendations and took us to some really cool places. We also saw like 30 dolphins (amazing!) we had 6 girls for my bachelorette party and it was PERFECT. I would highly recommend this experience and will absolutely be rebooking the next time I'm in HH.

Kathryn Killman
21:31 13 Aug 23
Captain Brody was absolutely awesome! Our Bachelorette group of 6 ladies had an amazing time on the water and fit very comfortably on the boat. Captain Brody helped us create the best tour using his expert knowledge of the area. We were able to cruise, swim, dock and go to a fun bar he recommended, and see a TON of dolphins. Cannot recommend enough!


This was an amazing tour!. Booked on Sat for a Sun tour and Captain Brody called right away to confirm. We did the 90min dolphin tour. Took our dog and had a blast. Captain Brody was so personable, knowledgeable and fun. We got to see Charlie, a resident overly friendly begger of a dolphin up close! I highly recommend booking with them!

Daniel Lukasiewicz
00:07 28 Jul 23
Captain Brody was the BEST! Some friends and I decided last minute to book a crabbing/dolphin/fishing charter with HHDT...at 9pm, through their website...and Captain Brody called me 5 minutes after we submitted the appointment request! We booked the next day to take 3 adults and an 8 and 5 year old out. He was patient, kind and answered all of the kids 1,000 questions. He also entertained the 3 adults. I liked it so much we booked another trip the next week to take my Dad out on a trip. Could not recommend them more!

Cynthia Mead
22:27 26 Jul 23

James Hicks
13:59 25 Jul 23
This was such an awesome experience! Capt Richard had so much knowledge of the island and knew exactly where to go to see some dolphins. We even got lucky and saw a pod of dolphins! Definitely the best boat tour I ve been on!

Michelle Renner
22:16 19 Jul 23
This is the best dolphin tour! Plenty of dolphins to see but Charlie was our fav!💜 Our 3 year old granddaughter had so much fun. Captain Brody was great and very personable. It was worth every penny!

Danielle Roden
22:51 16 Jul 23
Brody was friggin awesome!!! Best tour guide ever 💯