Hilton Head
Dolphin Tours
Enjoy a relaxing and unforgettable experience amongst nature on our Dolphin Tours in Hilton Head, SC. We'll take you and your family out on the experience of a lifetime as we glide along the Lowcountry waters.
Advance Booking Strongly Advised!
---
1½, 2, 3 and 4 hour Dolphin Tours
Safe and suitable for all ages.
Dog friendly.
See Hilton Head's historic and famous locations.
Regular sightings of local wildlife.
Passionate guidance from our captains.
See Dolphins in Their Natural Habitat
Forget binoculars, we'll take you so close you can almost touch the dolphins (while still respecting their safety)! Our ocean friends may be in the wild, but they still love to join in on the fun. Here in their natural habitat, you'll see Atlantic Bottlenose Dolphins swimming freely and hear them clicking and squealing at us with joy.
Our Hilton Head Dolphin Tours provide beautiful views of the island we call home, including all sorts of wildlife and the famous gated communities of Broad Creek, Long Cove, Wexford and Spanish Wells Plantations. As we head out into the Atlantic, we'll keep you entertained as Captain Brody and Captain Dick provide a passionate guided commentary.
We'll ask for your help as we all keep an eye out for signs of the main attraction – dolphins! They can hold their breath for five minutes! Who will spot them first?
As they leap in and out of the water, you'll see them gliding along beside us, showing off their unique personalities and stunning physiques.
Our Hilton Head Dolphin cruises will also give you a chance to see Harbor Town Lighthouse, Tybee Island, Daufuskie Island, the Savannah River Bridge and of course, the Atlantic Ocean.
Hilton Head Dolphin Tours, Suitable for All Ages
We aim to have everyone leave feeling better than they did before they arrived on our Hilton Head Dolphin Tours. That's why safety and comfort are our number one priority.
With a family-friendly perspective, we ensure that all ages can enjoy what Hilton Head has to offer. Whether it's your first time on a boat tour or you have young kids, relax knowing we cater to all ages.
More Than Just a Dolphin Tour
Although encountering dolphins is our primary objective, our Boat Tours in Hilton Head, SC, offer so much more!
In fact, many people consider Hilton Head Dolphin Tours to be the best way to see the many highlights of Hilton Head, alongside incredible wildlife and iconic views.
From the famous Harbor Town lighthouse with its candy cane-stripe appearance to the historic homes and saltwater marshes, this is a feast for the eyes.
Marine Wildlife Sightings
Our Hilton Head Dolphin tours naturally provide regular sightings of marine wildlife, including Osprey, Herons, Egrets, Pelicans, Cormorants, Oystercatchers, Bald Eagles, jumping sting rays and maybe Sea Turtles!
These animals really complete our boat tours, giving something for everyone. Whether you've never seen a dolphin or want to educate your kids on nature, this is for you!
Hilton Head Dolphin Facts
In Hilton Head, we'll encounter the friendly and impressively intelligent bottlenose dolphin (also referred to as the Atlantic Bottlenose Dolphins). Due to their intelligence, they're commonly seen in aquariums and SeaWorld. However, on our Dolphin Tours, you will see them swimming safely and freely in the wild as intended.
Bottlenose Dolphin Facts
Bottlenose dolphins get their name from their elongated upper and lower jaws that look similar to the top of a gin or wine bottle. Their curved mouths give them a smiling appearance that is guaranteed to make you smile back. Most bottlenose dolphins have a grey color and can grow from 6.6-13.1 feet while weighing 330-1,430 lbs! Their size makes them easy to spot and a true wonder to witness as they leap in and out of the water. Hilton Head Dolphins are hungry beauts too. They consume roughly 50 lbs of fish and bottom-dwelling invertebrates every day. Generally, they'll eat almost any smaller fish species but adapt to what's available in their location. Dolphins are very social creatures and love to travel in social groups, often working together. They're known to join together to gather food, help other injured dolphins and even help local fishermen catch fish.
Dolphins' Acrobats and Jumping
Dolphins are mammals, just like us, meaning they're intelligent and warm-blooded. It also means they can't breathe underwater. Instead of breathing through gills like fish, they breathe through nostrils (called a blowhole) found on top of their heads. Because of this, they need to reach the surface at some point and enjoy that fresh oxygenated air. That means we get to enjoy an incredible spectacle on our Hilton Head Dolphins Tours! They often leap up out of the water, displaying that classic arching physique, before gracefully re-entering the water. They never disappoint!
Did You Know?
The common bottlenose dolphin has a bigger brain than humans!
Wild dolphins can live for 20-25 years.
Dolphins are famous for their interactions and responses with humans, which has seen them exploited by aquarium shows and used for training in the military.
Fossils suggest that the first bottlenose dolphin appeared during the Miocene epoch, between 23-5 million years ago.
The distinct dolphin clicking noise is a form of echolocation. The sound travels before reflecting back on objects, such as food and obstacles – giving the dolphins a sense of location, size and shape!
They can make up to 1,000 clicking sounds per second!
You might not believe it until you see it with your own eyes, but dolphins love to have fun! We've even seen them playing together like kids.
They sleep with one eye open.
Dolphins have great eyesight. If they surface and you feel like they're looking at you – they probably are!
How to Protect the Dolphins:
On all our boat tours, we care for the safety and wellbeing of the wildlife, including following the
Dolphin SMART guidelines.
There are several things you can do to help protect Hilton Head's Dolphin population:
Never feed the dolphins (prohibited by Federal Law). Spoiled or bad food can cause illness or death. It's also important that they don't learn to get food from humans, who might not always be so careful with their boats.
Never throw plastic or other trash into the water.
If the dolphins do approach the boat, don't try to touch them. As friendly as they are, we'll be visiting wild dolphins, not trained dolphins. Feel free to take photos and videos and Enjoy!
Dolphin Tours in Hilton Head, South Carolina
If you're interested in a guided boat tour in Hilton Head, SC, that is truly unforgettable,
contact us today to book a dolphin tour
. Suitable for all ages, booking in advance is strongly recommended to ensure we can accommodate your group. If you're looking for an exciting adventure other than our dolphin tours, check out some of our other packages:
Hilton Head Sunset Cruises
,
Historic Savannah Cruises
,
Hilton Head Crabbing
,
Hilton Head Disappearing Island Tours
,
Hilton Head Fireworks Cruises
or if you're looking to relax and let your hair down, we have custom tailored a
Hilton Head Booze Cruises
just for you!
Hilton Head
Dolphin Tours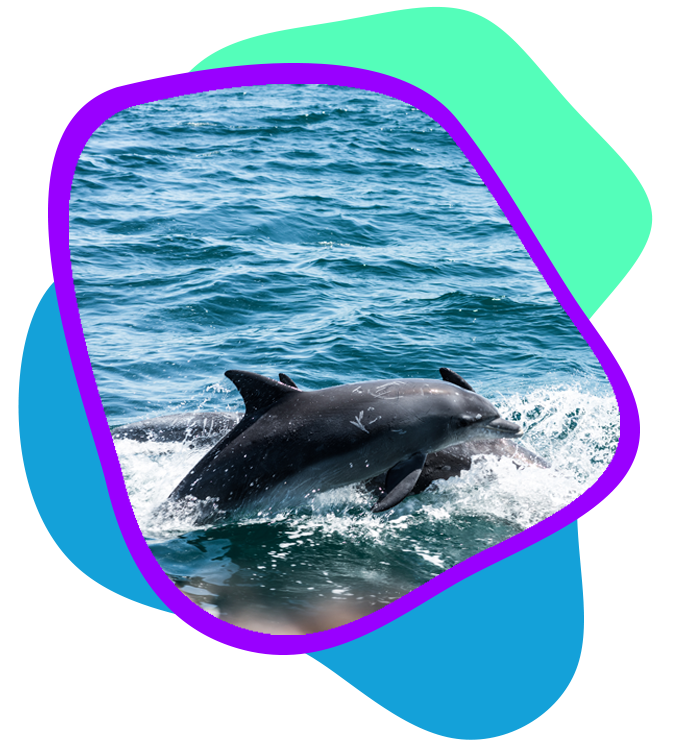 G

O

O

G

L

E

REVIEWS from our Happy Guests

Jackson Grand
00:43 18 Nov 21
Very fun and caught a lot of fish!

This tour was the highlight of our trip to Hilton Head. A great way to spend the morning. We saw so many dolphins. Captain Brody was the best! He even recommended some local places to eat 🙂

J. Scott Douglas
12:25 23 Sep 21
Having spent almost a decade on the Island, I have never seen or even heard of a Dolphin Experience like we had! It exceeded our wildest expectations. Perhaps once in a lifetime but so well worth it!

Kristen Green
23:37 22 Sep 21
We had the best time and saw so many dolphins! At the end of the ride one was right next to the boat following us. It was an amazing experience and I look forward to doing it again!

David Crego
02:50 06 Sep 21
Awesome time! Me and my girlfriend took the 2 hour dolphin tour! Captain Brodie was a AWESOME host! The boat will seat 6 people, but it was just the two of us! Amazing time on the water, and we saw multiple dolphins and even a baby hammerhead shark! Well worth the money! Brodie is full of information! Be kind and tip if you go! Next time we come back, I will be in touch with captain Brodie!

Lisa Fleming
01:37 06 Sep 21
We had the best time with Captain Brody! We are four girlfriends who booked a sunset cruise, and we were not expecting such a fun Captain, great music, dolphins, and the wealth of knowledge he had about the area. He came as a recommendation to us, and we plan to use him for every visit going forward!

Cyndi Adams
12:22 27 Aug 21

Gina Davis
04:43 11 Aug 21
Wow. What a great time. Captain Brody was great. Very knowledgeable about dolphins, their behaviors, and the best areas to spot them. We were not disappointed. We spent more than 30 min in one area because they were all around us. Thank you Captain Brody for a wonderful and memorable afternoon. (Gina Davis is my alias. 😜) 530p on 8/10/20 for the 1 1/2 hour tour.

Captain Brody was awesome! We had so much fun dolphin watching that we scheduled ocean fishing for the next day! We have two young boys, he kept it interesting, educational, fun and safe!

Emily Mueller Flanigan
01:55 30 Jul 21
Had the most wonderful experience. Something we will never forget!