Hilton Head
Booze Cruises
Get ready to party! Our Booze Cruises in Hilton Head, SC, give you the chance to create a custom tailored day of fun on the water. Pick your stop-off points at bars, restaurants and islands to have the party of a lifetime! There is no other private party boat trip like this!
Advance Booking Strongly Advised!
---
3/4/5 hour Hilton Head Booze Cruises
Custom Booze Adventure
Tailor your route!
Control the quality onboard Bluetooth surround sound
Seeing stunning wildlife and scenery
Customize Your Booze Cruise Adventure!
On Our Hilton Head Booze Cruises, you get to take control! Imagine your ideal Booze cruise? Now you can make it a reality.
Stop off at your favorite bars, the best restaurants or cruise around the stunning sights of Hilton Head Island! This is a boat trip unlike any other.
Listen to Whatever Floats Your Boat!
With an ice cooler onboard and high-quality surround sound speakers, the action continues on the water too! Hook up your phone via Bluetooth for your custom soundtrack.
If you're still standing after rounds of drinks, then why not look out for Dolphins before a stunning sunset over the Low Country waters? Whatever your plans are, we'll make it happen!
Hilton Head Party Boat Tours
Our Hilton Head Booze Cruise makes for the perfect party boat experience. Whether you want a wild time out with your buddies, celebrate a birthday with your girls, or a bachelor party with the boys, then look no further!
Birthday Party Cruises
Get ship-faced on our Birthday Party Booze Cruises in Hilton Head. Take your closest friends and create a customized trip that will live long in the memory (or not if you drink enough).
Bachelor and Bachelorette Party Cruises
Give the bride or groom-to-be the party they deserve with a beautiful and action-packed customized Booze cruise around Hilton Head! Endless drinks, stunning scenery and the freedom to celebrate in style. What more do you need?
Spring Break Party Boat
Celebrate spring break like it should be! On our epic booze cruise tour, gather up your best friends for a trip around the best place in South Carolina! Drink, dance and hit the beaches. Try not to pass out in the sand.
Sunday Funday Party Boat
Create your ultimate Sunday Funday on our Hilton Head Booze Cruises! Why not start with brunch before cruising around the islands, enjoying drinks at bars on route. Let's go!
Weekend Party Boat
Our guests love enjoying their time off with a custom Hilton Head booze cruise. Do whatever you want. Why not start the morning with dolphin sightings and end the day with a bar crawl?
Hilton Head Vacation Party Boat
Heading to Hilton Head for vacation? Make a party of it! We'll take care of whatever party you want, from a relaxed cruise through nature to a full-on drinking challenge!
Wine Cruises
Drinking till you drop isn't for everyone. If sitting back with some wine as the sun sets is more your thing, we'll make it happen. Plan the ideal route through nature and dolphins, with the drinks and friends you like the most.
Firework Cruises
Every Tuesday night during the summer sees fireworks come to Hilton Head. Why not combine firework nights with your Hilton Head booze cruise itinerary for an epic ending to the day!
What Will You See on Your Hilton Head Booze Cruises?
Before you drink yourself to the limit, you can enjoy some stunning sights of wildlife and nature around the wonderful Hilton Head islands. That's what makes this the best place to take a booze cruise – it's truly beautiful!
Stunning Scenery and Beaches
The islands around Hilton Head are home to a variety of great nature locations. From the salt marshes that we often cruise out from, to the sand bars of Disappearing Island and great oaks of the nature reserves, it's all here!
Best of all, we give you the chance to customize your route. Want to watch the sunset over the Atlantic Ocean? Let's go! Want to dive about in the sandy beaches? Who wouldn't?! Want to sit back with some wine under the fireworks? Let's make it happen!
Dolphins and Wildlife!
Our Hilton Head booze cruises will give you unforgettable sightings of local wildlife, including Osprey, Herons, Egrets, Pelicans, Cormorants, Oystercatchers, Bald Eagles, jumping stingrays and maybe Sea Turtles!
But what about dolphins? Yep, you can see them too! Make it part of your customized booze cruise route and we'll head to the dolphin hotspots. The Atlantic Bottlenose Dolphins often swim right up to the boat, giving you an unforgettable experience with nature.
Restaurants and Bars in Hilton Head:
You get to choose your route, so tell us which bars and restaurants we need to head to. With a variety of stop-off points available, you won't be short on drinks! These include:
Alljoy Public Dock
Hudson's Seafood House On The Docks
Skull Creek Dockside
Daufuskie Island
Bluffton Oyster Boat Landing
Hudson's Seafood House On The Docks
Skull Creek Dockside
Daufuskie Island
C.C. Haigh, Jr. Boat Landing
Hudson's Seafood House On The Docks
Skull Creek Dockside
Daufuskie Island
Black Marlin
Cross Island Boat Landing
Up the Creek Pub & Grill
Fishcamp on Broad Creek
San Miguel's
The Other Sister's Wine Bar (after 5pm)
Scott's Fish Market Restaurant & Bar
How to Plan Your Hilton Head Booze Cruise?
Here's our advice on planning your Hilton Head booze cruise:
Decide on what you want to do or see most: A bar crawl, enjoy a meal at a restaurant, see dolphins, watch the sunset? Why not everything?
Note down your ideal bars and restaurants.
Pick an ideal pick up/drop off time.
List the wildlife and/or island in Hilton Head you want to see most.
Contact our captains for advice if you're short on ideas and to see how we can make your dream Hilton Head booze cruise a reality!
Plan a playlist with several hours worth of your favorite bangers!
Booze Cruises in Hilton Head, South Carolina
If you're interested in a customized party boat adventure, contact us today to book a booze cruise. Booking in advance is strongly recommended to ensure we can accommodate your group.
If you're looking for an exciting adventure other than our booze cruise tours, check out some of our other packages: Hilton Head Dolphin Tours, Hilton Head Sunset Cruises, Historic Savannah Cruises, Hilton Head Crabbing, Hilton Head Disappearing Island Tours, Hilton Head Fireworks Cruises.
Hilton Head
Booze Cruises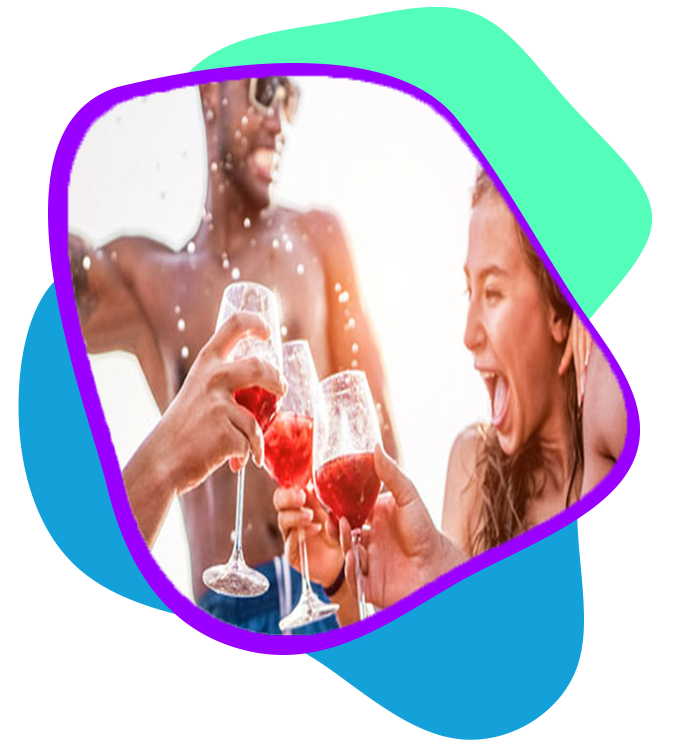 G

O

O

G

L

E

REVIEWS from our Happy Guests

Michael McCray
00:02 10 Nov 23
Captain and mate were great. Found a pod of 10 to 15 dolphins. Great to watch them for a good amount of time.

AgentJ 0723
12:51 08 Oct 23
We ended our vacation by booking a 2 hour dolphin tour with captain Brody. This was the perfect way to end our amazing vacation! Captain Brody was very knowledgeable about the area and knew where to go to find the dolphins. We saw so many dolphins and even a pod of dolphins! It was a lovely day and we look forward to taking another boat tour with them on our next Hilton Head vacation.

Stancu Edy
10:59 05 Oct 23

The Big Daddy-O
17:25 25 Aug 23
Very friendly and scenic!

Kelly Killman
16:57 22 Aug 23
This was the BEST experience. Captain Brody was so great, he gave recommendations and took us to some really cool places. We also saw like 30 dolphins (amazing!) we had 6 girls for my bachelorette party and it was PERFECT. I would highly recommend this experience and will absolutely be rebooking the next time I'm in HH.

Kathryn Killman
21:31 13 Aug 23
Captain Brody was absolutely awesome! Our Bachelorette group of 6 ladies had an amazing time on the water and fit very comfortably on the boat. Captain Brody helped us create the best tour using his expert knowledge of the area. We were able to cruise, swim, dock and go to a fun bar he recommended, and see a TON of dolphins. Cannot recommend enough!


This was an amazing tour!. Booked on Sat for a Sun tour and Captain Brody called right away to confirm. We did the 90min dolphin tour. Took our dog and had a blast. Captain Brody was so personable, knowledgeable and fun. We got to see Charlie, a resident overly friendly begger of a dolphin up close! I highly recommend booking with them!

Daniel Lukasiewicz
00:07 28 Jul 23
Captain Brody was the BEST! Some friends and I decided last minute to book a crabbing/dolphin/fishing charter with HHDT...at 9pm, through their website...and Captain Brody called me 5 minutes after we submitted the appointment request! We booked the next day to take 3 adults and an 8 and 5 year old out. He was patient, kind and answered all of the kids 1,000 questions. He also entertained the 3 adults. I liked it so much we booked another trip the next week to take my Dad out on a trip. Could not recommend them more!

Cynthia Mead
22:27 26 Jul 23