Hilton Head
Booze Cruises
Get ready to party! Our Booze Cruises in Hilton Head, SC, give you the chance to create a custom tailored day of fun on the water. Pick your stop-off points at bars, restaurants and islands to have the party of a lifetime! There is no other private party boat trip like this!
Advance Booking Strongly Advised!
---
3/4/5 hour Hilton Head Booze Cruises
Custom Booze Adventure
Tailor your route!
Control the quality onboard Bluetooth surround sound
Seeing stunning wildlife and scenery
Customize Your Booze Cruise Adventure!
On Our Hilton Head Booze Cruises, you get to take control! Imagine your ideal Booze cruise? Now you can make it a reality.
Stop off at your favorite bars, the best restaurants or cruise around the stunning sights of Hilton Head Island! This is a boat trip unlike any other.
Listen to Whatever Floats Your Boat!
With an ice cooler onboard and high-quality surround sound speakers, the action continues on the water too! Hook up your phone via Bluetooth for your custom soundtrack.
If you're still standing after rounds of drinks, then why not look out for Dolphins before a stunning sunset over the Low Country waters? Whatever your plans are, we'll make it happen!
Hilton Head Party Boat Tours
Our Hilton Head Booze Cruise makes for the perfect party boat experience. Whether you want a wild time out with your buddies, celebrate a birthday with your girls, or a bachelor party with the boys, then look no further!
Birthday Party Cruises
Get ship-faced on our Birthday Party Booze Cruises in Hilton Head. Take your closest friends and create a customized trip that will live long in the memory (or not if you drink enough).
Bachelor and Bachelorette Party Cruises
Give the bride or groom-to-be the party they deserve with a beautiful and action-packed customized Booze cruise around Hilton Head! Endless drinks, stunning scenery and the freedom to celebrate in style. What more do you need?
Spring Break Party Boat
Celebrate spring break like it should be! On our epic booze cruise tour, gather up your best friends for a trip around the best place in South Carolina! Drink, dance and hit the beaches. Try not to pass out in the sand.
Sunday Funday Party Boat
Create your ultimate Sunday Funday on our Hilton Head Booze Cruises! Why not start with brunch before cruising around the islands, enjoying drinks at bars on route. Let's go!
Weekend Party Boat
Our guests love enjoying their time off with a custom Hilton Head booze cruise. Do whatever you want. Why not start the morning with dolphin sightings and end the day with a bar crawl?
Hilton Head Vacation Party Boat
Heading to Hilton Head for vacation? Make a party of it! We'll take care of whatever party you want, from a relaxed cruise through nature to a full-on drinking challenge!
Wine Cruises
Drinking till you drop isn't for everyone. If sitting back with some wine as the sun sets is more your thing, we'll make it happen. Plan the ideal route through nature and dolphins, with the drinks and friends you like the most.
Firework Cruises
Every Tuesday night during the summer sees fireworks come to Hilton Head. Why not combine firework nights with your Hilton Head booze cruise itinerary for an epic ending to the day!
What Will You See on Your Hilton Head Booze Cruises?
Before you drink yourself to the limit, you can enjoy some stunning sights of wildlife and nature around the wonderful Hilton Head islands. That's what makes this the best place to take a booze cruise – it's truly beautiful!
Stunning Scenery and Beaches
The islands around Hilton Head are home to a variety of great nature locations. From the salt marshes that we often cruise out from, to the sand bars of
Disappearing Island
and great oaks of the nature reserves, it's all here! Best of all, we give you the chance to customize your route. Want to watch the sunset over the Atlantic Ocean? Let's go! Want to dive about in the sandy beaches? Who wouldn't?! Want to sit back with some wine under the fireworks? Let's make it happen!
Dolphins and Wildlife!
Our
Hilton Head booze cruises
will give you unforgettable sightings of local wildlife, including Osprey, Herons, Egrets, Pelicans, Cormorants, Oystercatchers, Bald Eagles, jumping stingrays and maybe Sea Turtles! But what about dolphins? Yep, you can see them too! Make it part of your customized booze cruise route and we'll head to the dolphin hotspots. The Atlantic Bottlenose Dolphins often swim right up to the boat, giving you an unforgettable experience with nature.
Restaurants and Bars in Hilton Head:
You get to choose your route, so tell us which
bars and restaurants
we need to head to. With a variety of stop-off points available, you won't be short on drinks! These include:
Alljoy Public Dock
Hudson's Seafood House On The Docks
Skull Creek Dockside
Daufuskie Island
Bluffton Oyster Boat Landing
Hudson's Seafood House On The Docks
Skull Creek Dockside
Daufuskie Island
C.C. Haigh, Jr. Boat Landing
Hudson's Seafood House On The Docks
Skull Creek Dockside
Daufuskie Island
Black Marlin
Cross Island Boat Landing
Up the Creek Pub & Grill
Fishcamp on Broad Creek
San Miguel's
The Other Sister's Wine Bar (after 5pm)
Scott's Fish Market Restaurant & Bar
Important Information
Harbor Town Fee
There is a $100 extra fee for drop/pick up to go down to Harbor Town. This gets charged to our captains from the docks and must be paid by our guests in order to access Harbor Town.
How to Plan Your Hilton Head Booze Cruise?
Here's our advice on planning your Hilton Head booze cruise:
Decide on what you want to do or see most: A bar crawl, enjoy a meal at a restaurant, see dolphins, watch the sunset? Why not everything?
Note down your ideal bars and restaurants.
Pick an ideal pick up/drop off time.
List the wildlife and/or island in Hilton Head you want to see most.
Contact our captains for advice if you're short on ideas and to see how we can make your dream Hilton Head booze cruise a reality!
Plan a playlist with several hours worth of your favorite bangers!
Booze Cruises in Hilton Head, South Carolina
If you're interested in a customized party boat adventure, contact us today to book a booze cruise. Booking in advance is strongly recommended to ensure we can accommodate your group. If you're looking for an exciting adventure other than our booze cruise tours, check out some of our other packages:
Hilton Head Dolphin Tours
,
Hilton Head Sunset Cruises
,
Historic Savannah Cruises
,
Hilton Head Crabbing
,
Hilton Head Disappearing Island Tours
,
Hilton Head Fireworks Cruises
.
Hilton Head
Booze Cruises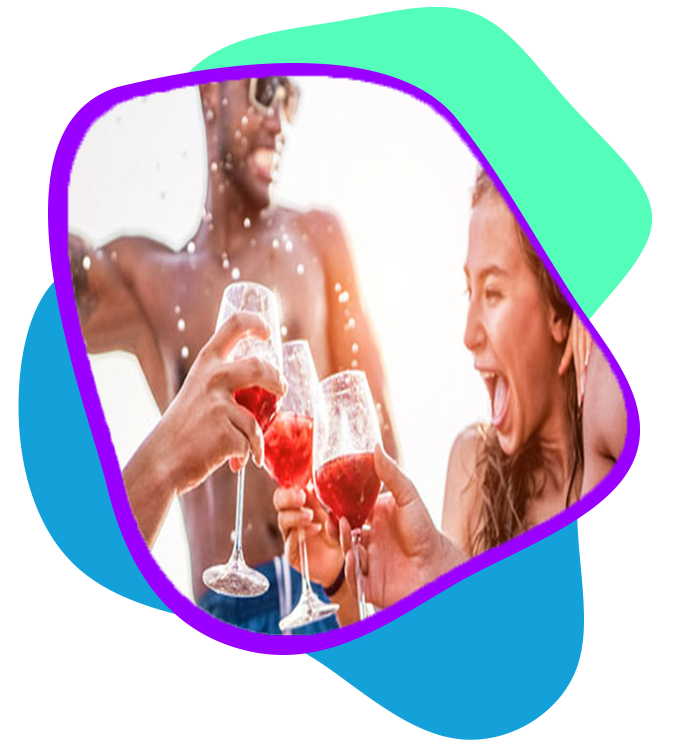 G

O

O

G

L

E

REVIEWS from our Happy Guests

Joel Closs
19:24 21 Dec 22
Had a great time out on the water with Captain Greg and Captain Richard. Top notch, great guys, highly recommend! 👍

Had THE BEST time! Tours are personable and offer a great experience for any crowd. Boats, dolphins, and sunsets… you can't go wrong!

This was beautiful sunset tours !

Alissa Rhodes
21:19 15 Oct 22
Captain Brody was absolutely amazing. He knew soo much not only about the wild life but also Hilton Head island. We saw so many dolphins including big Charlie who came up to the boat. Highly recommend you book this experience. Totally worth it!

Tom Tabolt
03:03 09 Oct 22
Captain Greg and Richard are top notch. Had a great trip. 👍🏻

Sarah Cornetet
15:34 07 Oct 22
Five stars for Captain Brody!! He is awesome! He knows how to find the dolphins. His knowledge of the area and the marine life made for a great tour. He is super friendly and fun. Thank you for the great experience for our family. We would definitely recommend to book a tour.

Alissa Shepard
05:56 26 Sep 22
Captain Brody was great! Very knowledgeable and we saw probably 20 dolphins. We would definitely go back again! Our 3 boys also had a blast.

Amanda Burchfield
19:46 25 Sep 22
Captain Brody was friendly and shared a lot of interesting information about the area. We had many dolphin sightings and even got up close. He was obviously familiar with the habits of dolphins and worked to be respectful of them and their habitat. He shared facts about their family life, mating styles, migration patterns, and more. We would definitely take this tour again, it was more than worth our time and money.

Carolyn Campbell
22:34 16 Sep 22
Amazing tour with lots of dolphins!! Captain Brody was great and really appreciate him making it awesome for my daughter & I!!!

Megan Pizzitola
19:42 13 Sep 22
My friends and I had such a great time celebrating a bachelorette weekend. Captain Brody was very communicative, flexible and a pleasure to work with. While I've been to HHI many times, we had an experience you can only have on a boat. Highly recommend to anyone visiting the area!