Hilton Head
Disappearing Island Tours
Take a trip to elusive beaches on our Disappearing Island Tours in Hilton Head, SC. Taking a boat is the only way to reach this unique location which is only exposed for about 1.5 hours each day. You'll see Sand Dollars, starfish and other sea life found nowhere else in Hilton Head!
Advance Booking Strongly Advised!
---
3 Hour Disappearing Island Tours
Walk along the historic sand before the tide arrives.
Find Sand Dollars and wildlife!
Safe and suitable for all ages.
Dog friendly.
Passionate guidance from our captains.
The Only Way to Reach Disappearing Island
For around 1.5 hours every day, the low tide reveals and provides access to Hilton Head's famous Disappearing Island. This historic island can only be reached by a Hilton Head Disappearing Island tour.
Leaving the salt marshes, we'll cruise out on a relaxing trip that takes us quickly across the Calibogue Sound, beyond Daufuskie Island and Harbour Town, before reaching our legendary destination – Disappearing Island.
After an eye-catching journey, you'll then get the chance to experience Disappearing Island for yourself! You and your family can walk in the shallow waters and along the famous sands, beachcombing for shells. You'll feel like you're walking in the ocean!
These beaches are home to all sorts of rare sea life and artifacts, from Sand Dollars and beautiful seashells to cannonball jellyfish and spider crabs!
Because of the topography and currents of Hilton Head Island, this is likely the only place you'll get to find such treasures.
Important Information
Please note: This tour requires you to get out of the boat and walk through around 12 inches of water as the tide moves. It is advised to wear a non-slip shoe that is made for getting wet.
Unfortunately because of these demands, our Hilton Head Disappearing Island is not handicap accessible. However, with our other tours we always strive to make them accessible for all. Feel free to call us to discuss what is possible.
Watch Disappearing Island Disappear
In just a couple of hours, the island vanishes! As the high tide arrives, the secluded beach is swallowed up by the Low Country waters.
As we glide back to our starting point, you'll see Disappearing Island fade away for another day.
Hilton Head Disappearing Island Tours, Suitable for All Ages
We always aim to have every passenger leave our Hilton Head Disappearing Island Tours feeling better than when they arrived. That's because we prioritize safety and comfort.
Catering to all ages, kids are welcome to come along and beachcomb the historic Disappearing Island with us.
Our captains are among the friendliest and most knowledgeable you'll find in Hilton Head. Your kids will learn about marine life, seabirds, tides and much more. That's not to mention the fun of finding exciting seashells!
More than Just a Disappearing Island Tours
The Disappearing Island is in a prime wildlife viewing location. You'll see more than just sand and water. On route we often see Osprey, Herons, Egrets, Pelicans, Cormorants, Oystercatchers, Bald Eagles and potentially jumping stingrays!
Dolphins
Best of all, we might see some Dolphins! In the spring and summer particularly, Atlantic Bottlenose Dolphins love to swim near the shore. We'll keep an eye out for dolphins jumping through the air and making their distinct noises while playing. Sometimes, they come right up to the boat to say hi!
Sand Dollars
Sand dollars are the main attraction of our Hilton Head Disappearing Island tours. Sand dollars are flat sea urchins that burrow in the sands of Disappearing Island. They love the soft, moist sand.
If dead, you'll find them with a pale white color rather than their regular yellow, brown, or purple color.
Can We Keep Sand Dollars?
You're allowed to keep the dead sand dollars you find as a memorable souvenir.
It's illegal in South Carolina to remove live sand dollars, but it's easy to tell the difference. Check if it's white first and then flip it over. If the sand dollar's tiny spines are still moving – it's live.
Fun fact: You can tell a Sand Dollar's age by counting the growth rings on the plate of a sand dollar's test. The bigger the rings, the older it must be. The ocean dwellers can live for 6-10 years.
Sharks Teeth
A rare but exciting find on our Hilton Head Disappearing Island tours is a shark tooth. Sharks develop thousands of teeth in their lives, so they lose a lot too. Due to the currents, these can find their way to Disappearing Island.
Shark teeth are usually around the size of a fingernail. If they're white, they're new. If they're black, they've become fossilized.
Starfish
In the past, some people have joked about calling Disappearing Island' Starfish Island'. On some days, we can find bucket loads of the star-shaped echinoderms along the sand. If dead, these can make incredible souvenirs. If alive, we'll enjoy seeing them up close before leaving them in peace.
About Disappearing Island
Located off the southern tip of Hilton Head Island, SC and the nearby Daufuskie Island is Disappearing Island. This unique bit of sand can only be visited via boat at low tides.
Also referred to as 'Disappearing Island' and 'Sand Dollar Island,' the tides vary throughout the year. In some periods, we can find a great expanse for beachcombing. In others, the water struggles to get low enough to expose the sand fully.
Over time, the size and shape of Disappearing Island have changed. But the topography has retained a quality of collecting shells, sand dollars and more to reward its visitors.
Grenadier Shoal
Nautical charts list Disappearing Island as 'Grenadier Shoal.' But naturally, Disappearing Island has become the standard term. A shoal is a shallow area of water along the edges of a deeper channel.
Nearby is Barret Shoals, which are rarely exposed by low tide enough to access but still present an obstacle to boats.
No Crowds
One of the best things about Hilton Head Disappearing Island tours is the isolation. At most times, it will be our boat alone. Unlike the other beaches of Hilton Head Island, you'll feel serenity and solitude. It's just you and nature.
Whether you're on the hunt for sand dollars or you want to experience something special, we promise you'll make memories that last a lifetime.
Disappearing Island Tours in Hilton Head, South Carolina
If you're interested in a boat tour in Hilton Head, SC, that is truly unforgettable, contact us today to book a Disappearing Island boat tour. Suitable for all ages, booking in advance is strongly recommended to ensure we can accommodate your group.
If you're looking for an exciting adventure other than our Disappearing Island tours, check out some of our other packages: Hilton Head Dolphin Cruises, Hilton Head Sunset Cruises, Historic Savannah Cruises, Hilton Head Crabbing, Hilton Head Firework Tours, or if you're looking to relax and let your hair down, we have custom tailored a Hilton Head Booze Cruise just for you!
Hilton Head
Disappearing Island Tours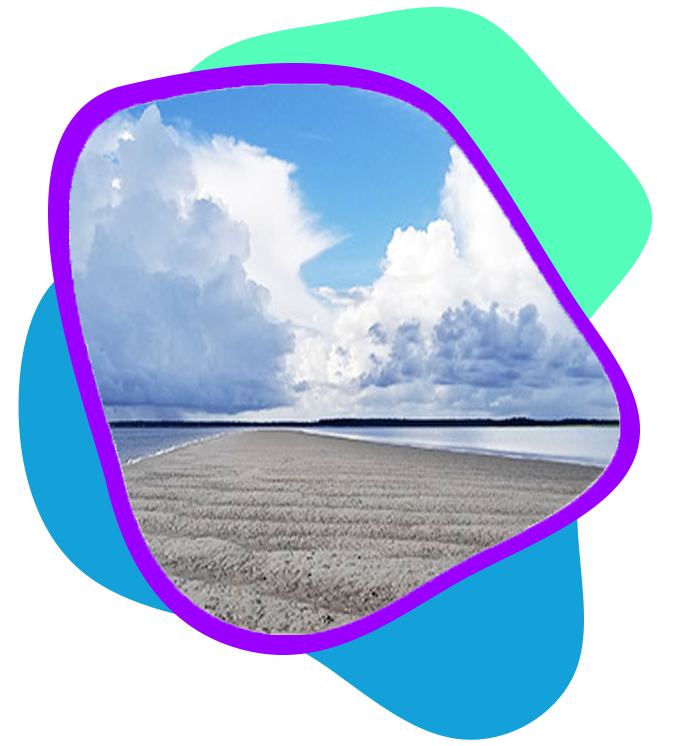 G

O

O

G

L

E

REVIEWS from our Happy Guests

The Big Daddy-O
17:25 25 Aug 23
Very friendly and scenic!

Kelly Killman
16:57 22 Aug 23
This was the BEST experience. Captain Brody was so great, he gave recommendations and took us to some really cool places. We also saw like 30 dolphins (amazing!) we had 6 girls for my bachelorette party and it was PERFECT. I would highly recommend this experience and will absolutely be rebooking the next time I'm in HH.

Kathryn Killman
21:31 13 Aug 23
Captain Brody was absolutely awesome! Our Bachelorette group of 6 ladies had an amazing time on the water and fit very comfortably on the boat. Captain Brody helped us create the best tour using his expert knowledge of the area. We were able to cruise, swim, dock and go to a fun bar he recommended, and see a TON of dolphins. Cannot recommend enough!


This was an amazing tour!. Booked on Sat for a Sun tour and Captain Brody called right away to confirm. We did the 90min dolphin tour. Took our dog and had a blast. Captain Brody was so personable, knowledgeable and fun. We got to see Charlie, a resident overly friendly begger of a dolphin up close! I highly recommend booking with them!

Daniel Lukasiewicz
00:07 28 Jul 23
Captain Brody was the BEST! Some friends and I decided last minute to book a crabbing/dolphin/fishing charter with HHDT...at 9pm, through their website...and Captain Brody called me 5 minutes after we submitted the appointment request! We booked the next day to take 3 adults and an 8 and 5 year old out. He was patient, kind and answered all of the kids 1,000 questions. He also entertained the 3 adults. I liked it so much we booked another trip the next week to take my Dad out on a trip. Could not recommend them more!

Cynthia Mead
22:27 26 Jul 23

James Hicks
13:59 25 Jul 23
This was such an awesome experience! Capt Richard had so much knowledge of the island and knew exactly where to go to see some dolphins. We even got lucky and saw a pod of dolphins! Definitely the best boat tour I ve been on!

Michelle Renner
22:16 19 Jul 23
This is the best dolphin tour! Plenty of dolphins to see but Charlie was our fav!💜 Our 3 year old granddaughter had so much fun. Captain Brody was great and very personable. It was worth every penny!

Danielle Roden
22:51 16 Jul 23
Brody was friggin awesome!!! Best tour guide ever 💯